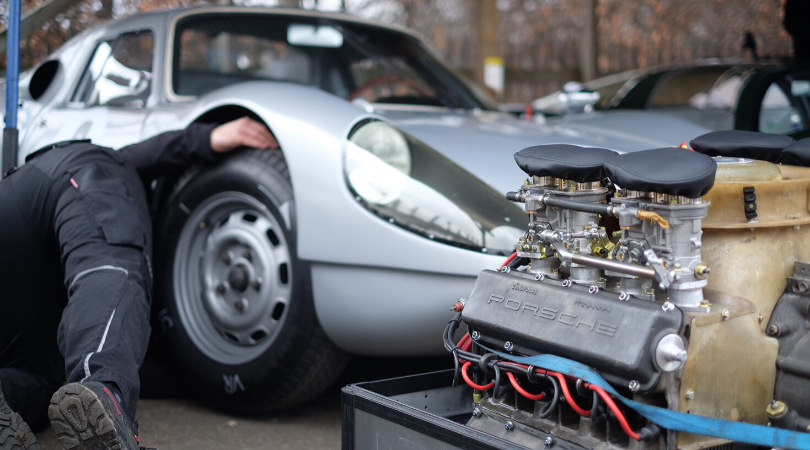 Car recalls are extremely common. In 2018 alone, 29 million cars were recalled by their manufacturers. If this happens to your car, read the recall letter and get your car fixed as soon as possible. There's a good chance the repairs will be free. Curious about your car's recall history, or looking to buy a used car? With Gapless, you can check any vehicle's recall history inside the Gapless car app. Don't have an account? Then check online with Gapless VIN Check.
What is a car recall?
Let's start with the basics. Car recalls are issued when an automaker or the NHTSA determines that a car poses a safety risk to consumers, or simply fail to meet safety standards. Defects like this are increasingly common, so your car can be recalled for any number of reasons.
Defects can affect steering, brakes, tires, seat belts, air bags or the ignition switch, to name just a few. They range from relatively harmless to life-threatening.
In most cases, auto manufacturers will voluntarily announce a recall when they discover a defect. But sometimes they decide to ignore the problem or fail to detect it.
Defects are increasingly common. Your car can be recalled for any number of reasons.
Fortunately, there's a backup plan, and it may all start with you — the car owner. If you notice a problem with your vehicle, you can report it to the NHTSA. Your complaint will become part of a public database, and if other people report a similar problem, the NHTSA may open an investigation that could result in a car recall.
Regardless of who actually issues the recall, manufacturers are required to fix the problem. They can choose to repair your car, replace it completely or offer you a refund. Whatever the case may be, you generally shouldn't have to pay for any expenses associated with the recall. More on that later.
Car recalls are a growing problem
Recalls happen all the time. According to a report by McKinsey, recalls happen at similar rates all over the world, and the biggest car companies are the biggest culprits. 29 million cars were recalled in 2018. That number is down from its peak of 50 million in 2016, but on average, recalls are on the rise. More cars have been recalled in the past five years than between 2003 and 2014!
There are two reasons for this recall boom. First, the electrical systems inside cars get more complex every year. It is now standard fare for vehicles to be outfitted with touch screen computers that are as powerful as smartphones. This may sound like progress, but it comes at a cost. Complex systems mean more software bugs and manufacturing errors, and these can pose serious risks to drivers, passengers and pedestrians alike.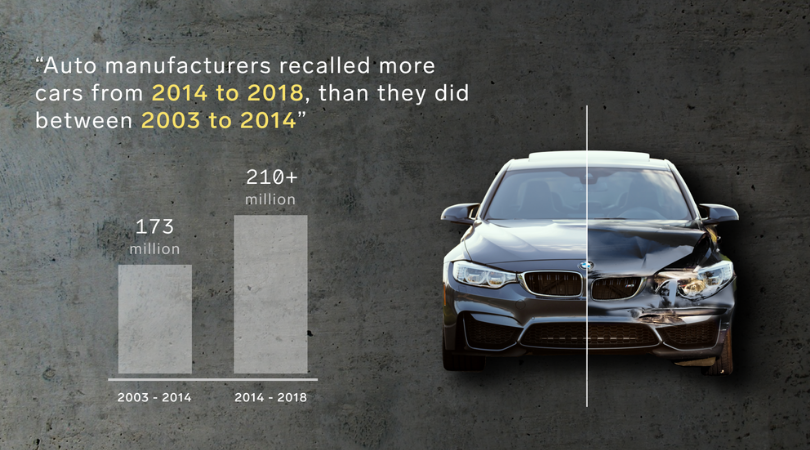 Second, due to an increasingly globalized economy, many automakers rely on the same suppliers for parts. If a supplier is found to be producing faulty parts, this can have huge consequences down the supply chain. For example, a 2014 recall of airbags by a single Japanese company affected 29 car brands by 14 automakers!
The chances are pretty good that your car has been part of a recall. So, what can you do about it?
How do I find out if my vehicle is part of a car recall?
You may actually be notified if your call is recalled. According to the NHTSA's Safety Recall Compendium, if a car is the subject of a recall, the manufacturer is required to send the registered car owner a notification letter within 60 days.
However, this process isn't perfect, so to make sure you don't fall through the cracks, register your new and used cars with their respective manufacturers. This way, they'll know to alert you when a recall is issued. Also, don't forget to give the manufacturer your new address after a move.
Luckily, you don't have to rely on manufacturers. You can check your car's recall history yourself. In fact, Gapless users can check any car's recall history inside the Gapless app! When you unlock your recall data with Gapless, it's automatically integrated into your vehicle's timeline. Give it a try, it's free!
In fact, recalls happen so often that the NHTSA recommends checking for recalls twice a year. With the Gapless car app, you can set reminders for these checks. If you don't yet have a Gapless account, you can search your car's 17-character vehicle identification number, or VIN using the Gapless VIN Check. You can find your vehicle's VIN on your registration paperwork, your insurance card, the lower left side of your car's windshield or on the driver's side door panel. If you don't have the VIN on hand, just make a Gapless profile with your car's make, model and year, and we'll do the rest.
What should I do if my car has been recalled?
First, read the recall letter from the manufacturer. If you unlocked your recall data with Gapless, you can find this letter by tapping the recall event in your timeline, and then tapping "show more" in the "notes" section. Otherwise, you should be able to find the recall letter at NHTSA.com
The recall letter should describe the safety issue, the risks it poses and any warning signs you should be aware of. It should also tell you how to schedule an appointment with a local dealer in order to repair the defect.
Whatever you do, don't procrastinate! Recall defects can be extremely dangerous.
You may be instructed to contact your local dealer to set up this appointment. If you're having trouble reaching the dealer, contact the manufacturer and ask for help. If neither cooperates, you may also file an NHTSA complaint against either the dealer or the manufacturer. Whatever you do, don't procrastinate! Recall defects can be extremely dangerous. If you ignore the recall, you may put yourself, your passengers and other drivers in danger.
Do I have to pay for repairs?
In most cases, no. But there are exceptions.
Whether you bought your car new or used, the manufacturer is usually responsible for fixing any safety defects free of charge. If you were ambitious enough to make the repairs on your own, you may even be eligible to be reimbursed for efforts.
Here's the bad news: If your car is more than 10 years old, the manufacturer isn't obligated to fix the issue for free. However, some manufacturers will choose to do so anyway, so it's always worth asking.
Keep in mind that you may also be charged for any additional repairs you consent to that fall outside the scope of the recall. Paying for these kinds of expenses is never fun, but we recommend addressing safety issues as they happen. After all, you can't really put a price on safety.
Where do I bring my car to get it fixed?
In most cases, the recall letter will direct you to the nearest authorized dealership. If you've moved, you don't necessarily have to return to the dealer where you bought the car. Go to your car manufacturer's website to find your nearest authorized dealership.
How long will it take?
Well, that depends.
The bigger the recall, the longer you may wait for an appointment with a local dealership. If worse comes to worst and you don't feel comfortable driving, park your car until the repairs can be made.
Should I stop driving immediately after a car recall?
Possibly. The recall letter should warn you if your car is too dangerous to drive. If you're not sure, contact the manufacturer or a local dealer.
Better safe than sorry.
How do I know if my used car has been recalled?
If you're thinking about buying a used car, make sure you search the VIN in the NHTSA's recall database. You can do this with the Gapless app, at the Gapless VIN Check website, or directly with the NHTSA. Recalls aren't all you should be worried about though, when you the VIN with Gapless, you can get a full report of a car's history. The Gapless report includes inspection records, accident history and more, as well as past recalls. Check it out.
This was mentioned above, but it bears repeating: After you purchase a used car, immediately contact the manufacturer to register the car so that you receive recall notices going forward.
Keep in mind, used cars that are more than 10 years old may not qualify for free repairs as part of a safety recall.
My car has been recalled. Now what?
Don't panic. Remember, recalls are extremely common and are issued for any number of reasons. Just follow the instructions in this article, get the issue fixed as soon as possible, and you'll be ok.
Fortunately, taking action usually won't mean any extra strain on your wallet. Manufacturers typically handle safety recalls for free, though it may take a bit of patience on your part.
Whether your car has been recalled on not, the prevalence of safety recalls should serve as a reminder of how dangerous driving can be. Always drive cautiously, because even if your car is in perfect shape others may not be. Stay alert, heed any warning signs, and if the manufacturer says your car isn't safe to drive, listen to them. Trust us: It's not worth the risk.