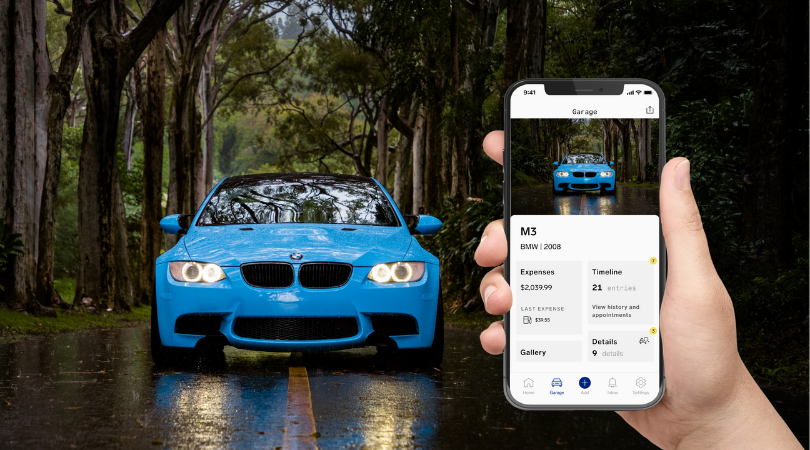 Gapless is an all-in-one car app that streamlines vehicle maintenance and ownership. Here's a breakdown of all its features.
Owning a car comes with a stressful combination of chores. Car owners have to store and organize paper documents for insurance, warranty, recalls and more. Proper vehicle maintenance calls for careful observation mileage and engine health. Cars can get expensive, so budgeting and cost management are unavoidable for most car owners. And finally, selling a car without losing money is also daunting. All these tasks add up to a major drag that, at times, can tarnish the joy of driving.
Gapless is a car app that streamlines vehicle management by assembling all of these tasks onto one powerful platform. With Gapless, car owners can digitize their car-related documents, import verified records about their car's past, intuitively track vehicle maintenance, history and expenses, and more. Gapless turns your smartphone into a control center for car ownership. Everything you need, in your pocket.
That's the elevator pitch. Read on for a detailed description of how Gapless actually works.
The Vehicle Profile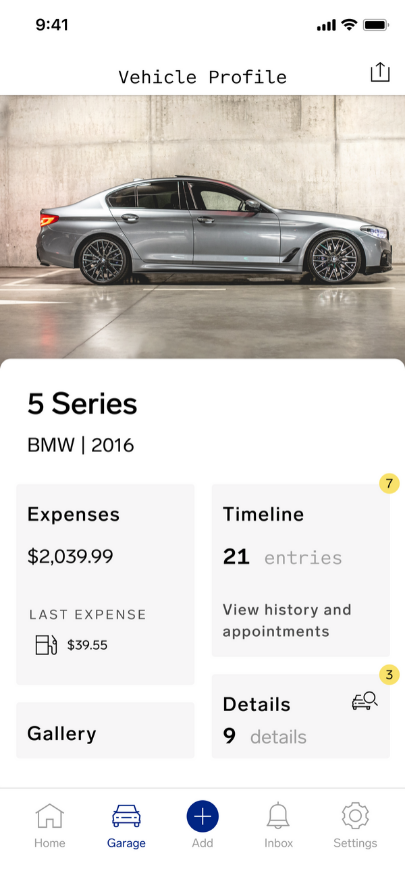 The Gapless experience revolves around digital vehicle profiles. To create one, you just have to enter a car's VIN (vehicle identification number), which the app uses to find and compile identifying information about the car in question. And just like that, in only a few clicks you have a vehicle profile complete with basic information about your car, like make, model, specifications, and date of manufacture.
A Gapless vehicle profile is split into five sections, Details, Timeline, Expenses, Valuation and Gallery. Each section is home to features that you can use to enrich your vehicle profile. The more enriched the vehicle profile, the more useful and valuable it becomes. There are two ways to enrich your profile. First, you can enter information about your vehicle manually in Details, Timeline or Expenses. Second, you can purchase data packages about your vehicle. These automatically integrate verified information about your car into your vehicle profile.
Details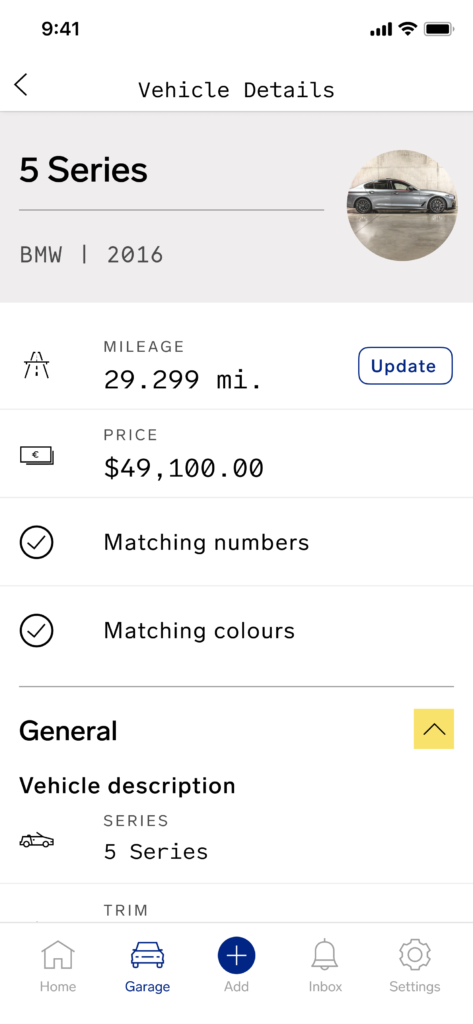 The Details section serves as your car's ID card. Here you'll find all kinds of information specific to your vehicle. This includes mileage, body type, specifications, serial numbers, equipment and much more. Some of this information appears automatically when you enter your VIN, but the rest must be entered manually or by purchasing the "Standard Equipment" data package.
When you purchase the "Standard Equipment" data package, Gapless imports a complete list of the equipment your car was originally outfitted with. These land in the "Equipment" section in Details.
Without Gapless, this information would stay scattered throughout your car's handbook, logbook, registration papers and government databases. With Gapless, it's all on your phone.
Timeline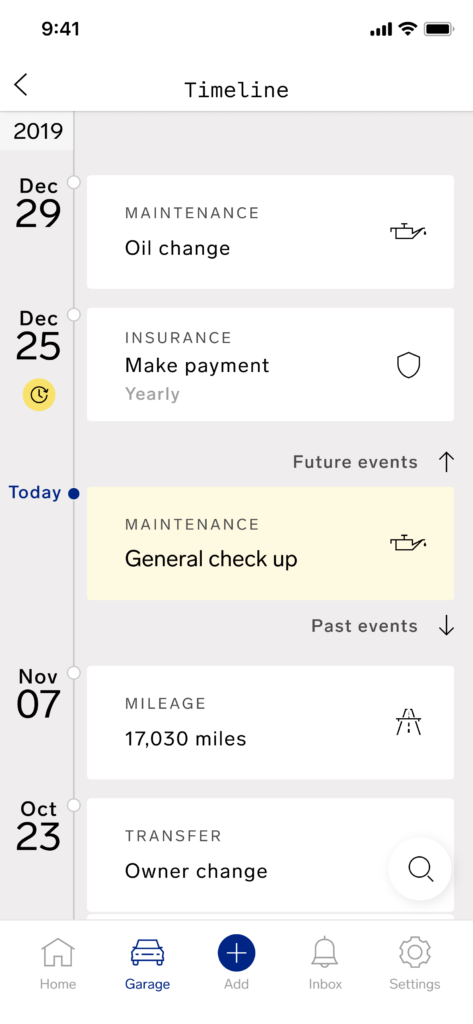 Thanks to the Timeline, recording your vehicle's history has never been easier. It is essentially a dynamic replacement for a logbook. Whenever something notable happens in the life of your car, like a new insurance policy, registration in a new state, a recall, vehicle maintenance, or simply a long drive, you can record it in your Timeline with ease. And unlike mere logbook entries, you can attach documents, receipts, location data, and photos to Timeline entries. Your Timeline can also search your Timeline the way you would any other digital document, so you'll never again waste any time looking for that receipt from six months ago.
You can also use Timeline to send you reminders about future events, like oil changes or other vehicle maintenance. For instance, based on your car's make and model, Gapless knows how often your car needs its oil changed. With your permission, Gapless will then make a Timeline entry for a few months from now and let you know when it's time.
Vehicle History
The Timeline is extremely useful for reminders and manually recording your car's history, but there's more. Your Gapless Timeline can also serve as a full vehicle history report. When you purchase the "NMVTIS History" data package, Gapless imports critical information about your car's past into the Timeline. This might include accidents, flood damage, thefts, changes in ownership, etc. Why pay money for this? The value stems from the source of this information and how Gapless presents it. The records you get from Gapless are guaranteed to be accurate because they are verified by government agencies like the NMVTIS or DVLA. Thanks to this verification, your Gapless profile is more than just a few pages in an app, it is an indisputable documentation of your vehicle's history.
Not only is it convenient to have all these records easily accessible on your smartphone, such documentation is also extremely valuable should you ever decide to sell your car. An enriched Gapless profile is the easiest way to establish trust between you and a potential buyer. It is for this reason that Gapless vehicle profiles are easily printable. Should a potential buyer request a copy of your vehicle profile, you can print it as a sleek handout with the push of a button.
Saving money with Gapless
The vehicle history adds value to your car, but it's not the only way to use Gapless to save money on your car. The Expense Manager gives you the overview you need to decide where to cut costs. The Timeline's maintenance reminders and recall alerts help you avoid costly repairs. The valuation makes sure you don't sell your car for any less than it's worth. At the end of the day, Gapless exists to make car ownership easier. Helping our users cut costs is one of the best ways to do that.
Looking for more tips on cutting car costs? We've got another blog post just for you
Expenses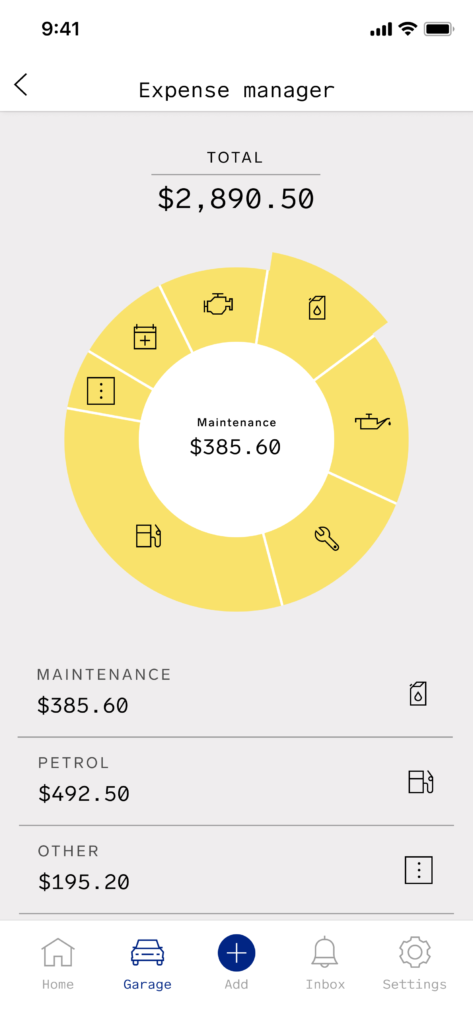 Fuel, insurance, vehicle maintenance, repairs… Owning a car is expensive, there's no way around that. However, by maintaining a clear overview of expenses, it's almost always possible to cut costs. This is what the Gapless Expense Manager helps you to do. The Expense Manager breaks down your car-related expenses into five categories: fuel, insurance, maintenance, repairs and taxes and fees. At a glance, know exactly how much you've spent on each in the past month or past year.
The Expense Manager is interwoven with the Timeline. Every time you create a Timeline entry, you have the opportunity to add a cost. Just paid an insurance premium? Add an entry with a cost. Just had a brake light fixed? Add an entry with a cost. The event shows up in the Timeline, and the cost shows up Expenses Manager.
But what good is budgeting without planning? Gapless can help with that, too. Based on your car's age, mileage, make and model, Gapless Forecast will estimate its total cost of ownership for the next year.
Valuation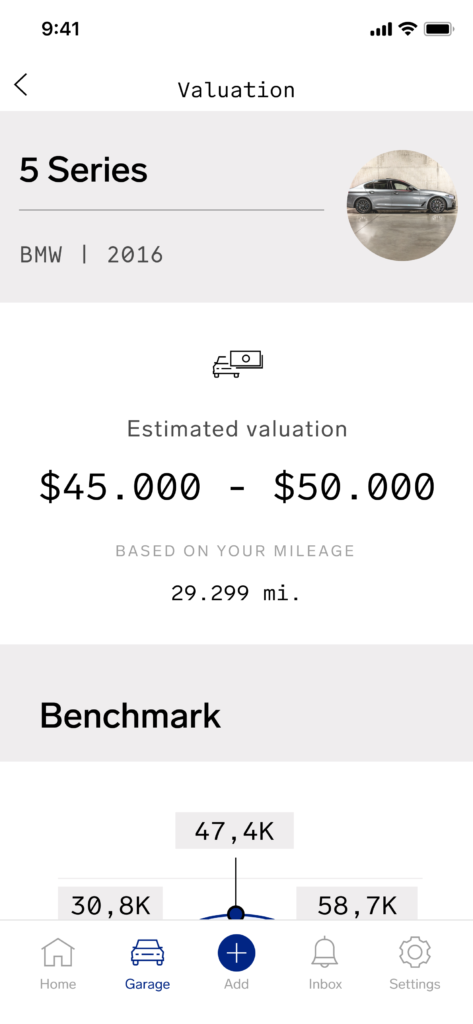 Owning a car is one thing, but selling a car comes with it's own set of challenges. Gapless can help you find answers here too, including to the first and most important question: how much is my car worth? Using the information in your vehicle profile, most notably your car's make, model, age and mileage, Gapless calculates the current value of your car. You should always seek the advice of an expert, and/or do your own research before settling on a price for your vehicle, but Gapless is the perfect place to start.
Vehicle History Reports
Gapless also offers vehicle history reports online. These reports provide information about title checks, warranty information and odometer tampering, in addition to the same information found in some of the data packages inside the app.
Vision and Blockchain
As it stands, Gapless allows everyday car owners to digitally manage their vehicles and access services with ease. Cars are just the beginning, though.
Gapless was founded on a belief in the power of blockchain; the revolutionary computing technology that stores data in distributed networks to endow it with frank and indisputable integrity. Since day one, we have envisioned Gapless as a platform that utilises blockchain to bring trust, transparency, and convenience to digital markets. This year, that vision becomes a reality.
In 2020, Gapless is receiving investment from the FinLab EOS VC fund. This fund is a collaboration between FinLab AG and Block.one. It is committed to elevating companies that are developing viable blockchain use cases.