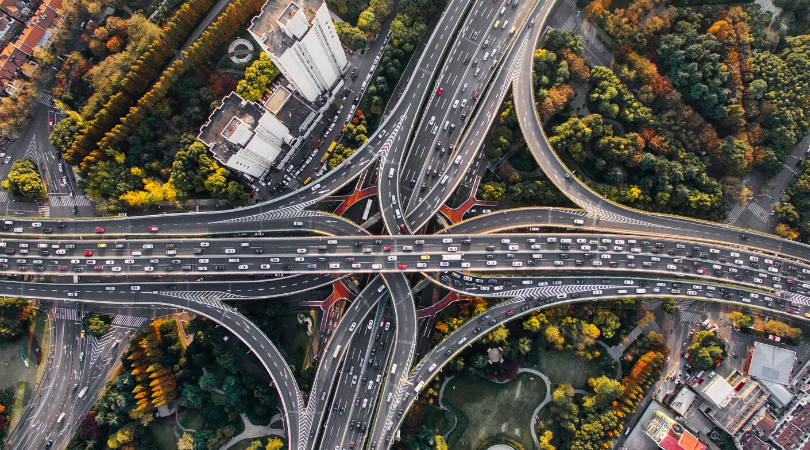 VIN stands for Vehicle Identification Number. That may sound boring, but if you own a car or are about to buy one, it's just a matter of time before your VIN becomes very important to you.
Your car, along with every other car in the world, has a unique VIN. It's sort of like your car's fingerprint. When someone is arrested, their fingerprint is recorded. When a car is impounded, its VIN is recorded.
A VIN is like a car's fingerprint. When someone is arrested, their fingerprint is recorded. When a car is impounded, its VIN is recorded.
Why are VINs so important?
There are over a billion cars on Earth, and VINs are how we keep track of what happens to them all. Whenever something happens to a vehicle, be it an accident, oil change or overhaul, the event is recorded using that vehicle's VIN. In other words, your car's VIN is the key to unlocking the secrets of its past. This makes VINs an extremely useful tool for just about anyone.
Owners of used cars can use VIN check services to find out if their car has ever been in an accident, if it's ever been recalled by its manufacturer, how often the car has been bought and sold, what its original production details are… The list goes on.
A VIN, when used correctly, can protect you from getting scammed.
People looking to purchase a used car should always obtain a vehicle's VIN before buying. Armed with a car's VIN, prospective buyers can get reliable information about the car's history. This can protect them from getting scammed. You can also sue it to get a better idea of whether the previous owner did vehicle maintenance.
Even people who own new vehicles can use their VIN to establish trust with prospective buyers, should they choose to sell their car. They can also use it to find out where and when their car was constructed, which could prove useful should the car's manufacturer is shown to have committed malfeasance.
So, how do I use my VIN?
VIN decoder services – like the VIN Check Gapless offers – allow you to put your VIN to work. When you check your VIN at Gapless, we use it to scour different databases for information about your vehicle. We then verify that information and prepare it in a detailed report, just for you. Better yet, you can import the data we find right into your profile in the Gapless car app, where it will be easier to view and easier to add to in the future!
Gapless is the last car app you'll ever need. Everything for vehicle management, in your pocket.
What does a VIN actually look like?
Every VIN is 17 characters long. Here's a breakdown of what they all mean.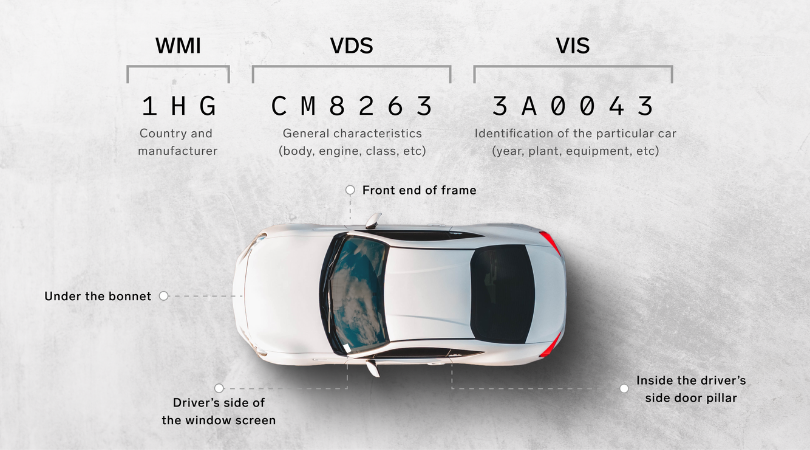 The first three characters are called World Manufacturer Identifier (WMI), and are always a number followed by two letters. The number indicates where a car was made, the letters are shorthand for the manufacturer name.
The next six characters are the Vehicle Descriptor Section (VDS), which is about vehicle type. Due to complicated reasons like varied regional regulations, each manufacturer has its own system for VDS. Regardless, the VDS usually describe model, body style, engine type, the automobile platform used, how many doors the vehicle has, etc.
The last eight characters are known as the Vehicle Identifier Section (VIS), a unique serial number by which the manufacturer can identify the exact vehicle. The VIS reveals information regarding everything from production year to the car's original equipment.
Where can I find my car's VIN?
Cars usually have their VIN imprinted on the following locations:
The bottom corner of the windshield on the driver's side.
Under the bonnet, next to the latch.
On the front end of the vehicle frame.
Inside the door pillar on the driver's side.
Make sure to check your car's VIN in at least two of these places. When preparing to sell a stolen car, thieves often cut off the VIN and replace it with a fake one!
Now that you know how much you can do with your VIN, put it to the test with the Gapless VIN Check!